Research, Prepare, Teach, and Recruit - all from one platform.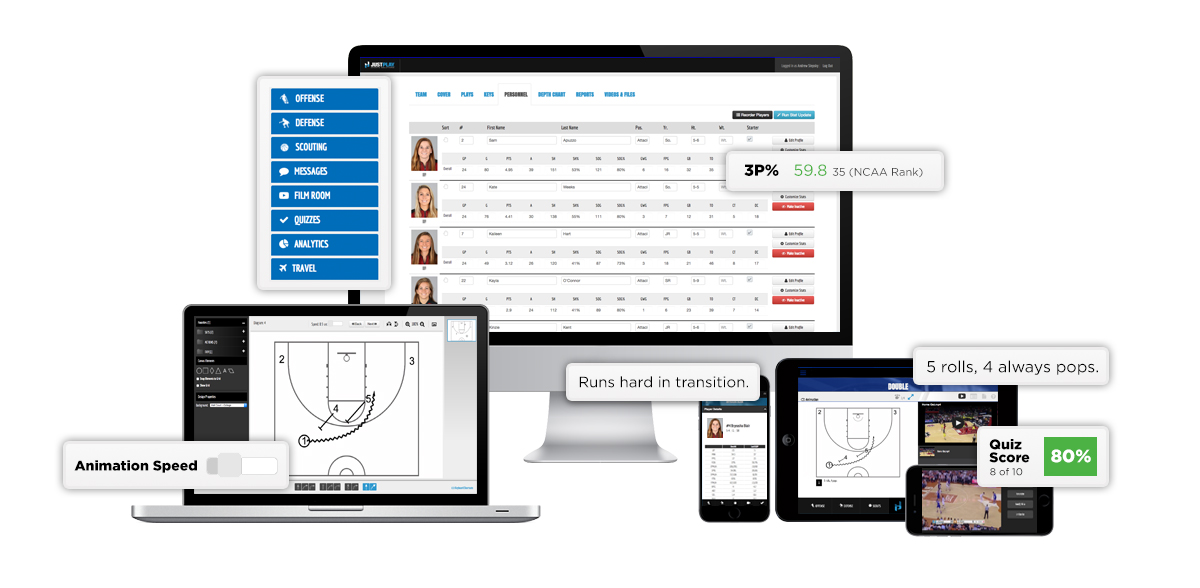 Just Play provides basketball staffs with a complete coaching solution.
From building playbooks, scouting opponents, teaching players and coordinating recruiting schedules, you will prepare faster and engage better with today's athletes using Just Play.
Powerful Preparation
A complete coaching solution. Here's how it works.
Break down opponents faster with our in-depth and customizable stat tools to help you make better data-driven decisions.
Roster Automation with player stats, bios, and photos
Team Stats Comparison (Traditional and Advanced)
Team/Player stats featuring over 300 Stat Fields and 14 Standard Splits (Overall, Conference, In Wins, etc.)
Custom reports from Box Scores – available 30 min. after a game
Unique Data Insights on player trends, productivity, and opponent similarity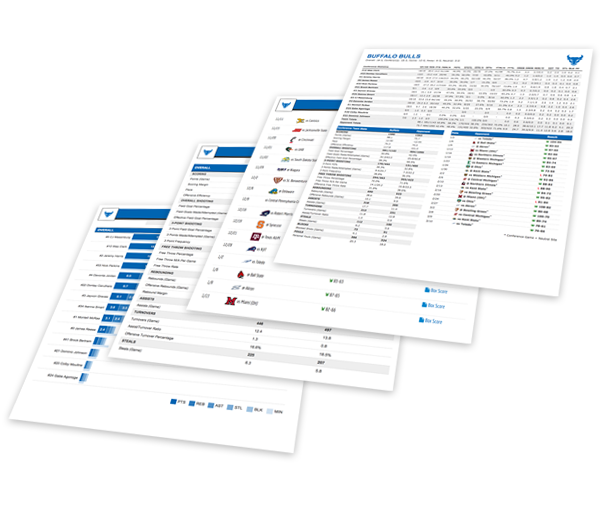 Build scouting reports, playbooks, and quizzes with easy-to-use digital coaching tools.
Automate Scouting Reports with powerful template options
Build Your Playbook using diagrams with game-like animation
Create Presentations to guide players through their preparation
Teach with Video integrated from any video editing platform (Synergy, Sportscode, etc.)
Prepare Interactive Quizzes with diagrams, video, images, and notes

Print Plays and Scouting Reports

Work Offline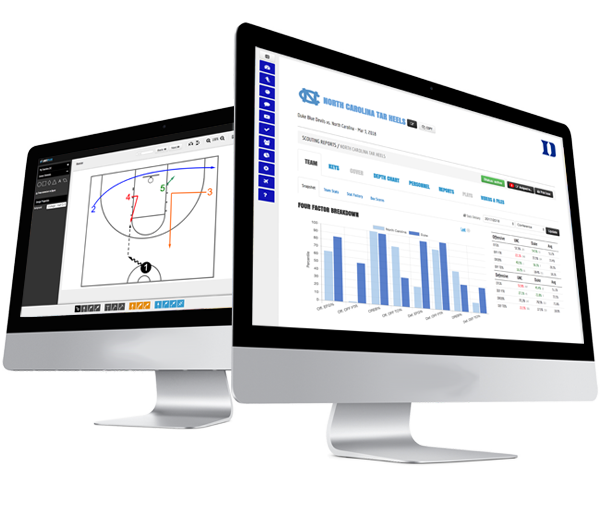 Interact with today's athlete by providing information to your players on apps designed for personalized learning.
Playbook Access with side-by-side diagrams and video
Interactive Scouting Reports with personnel notes, stats, match-ups, and video
Engage Players on their own time by assigning presentations to guide them through their preparation
Test Players and teach them how to watch film with interactive quizzing
Available Offline and on any Device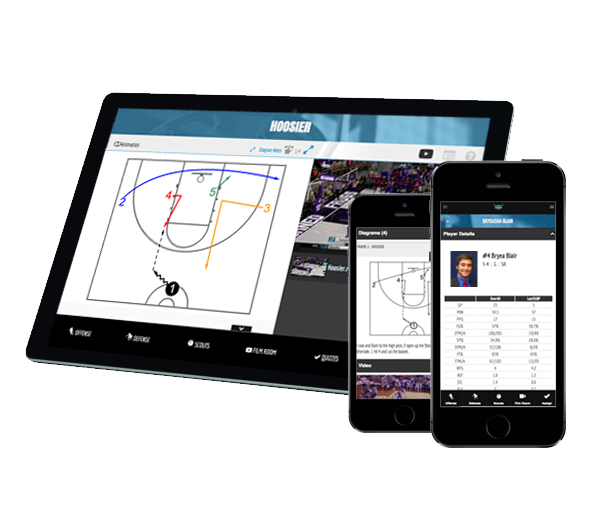 Gain insight on how well your team is prepared and use that information to help you make better preparation decisions.
Player Activity Reports breaking down team and individual usage
Quiz Performance Reports so you can see what your players know – and what they don't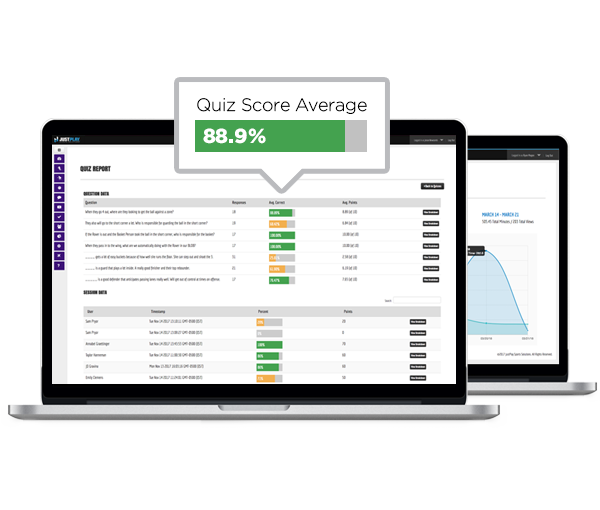 NEW! Our recruiting tools and mobile app help college staffs track tournament schedules and recruits during April and July evaluation periods.
Track Tournament Schedules and game changes automatically
Evaluate Recruits, create interactive profiles and customized priority lists
Manage tournaments, staff assignments, and recruit profiles with our mobile app, complete with extras like Blended Event Schedules and Google Maps integration 
Offline Mode allows you to track games and evaluate players without being dependent on WiFi or battery life
Create Staff Calendars for evaluation periods, high school schedules, on-campus visits, and more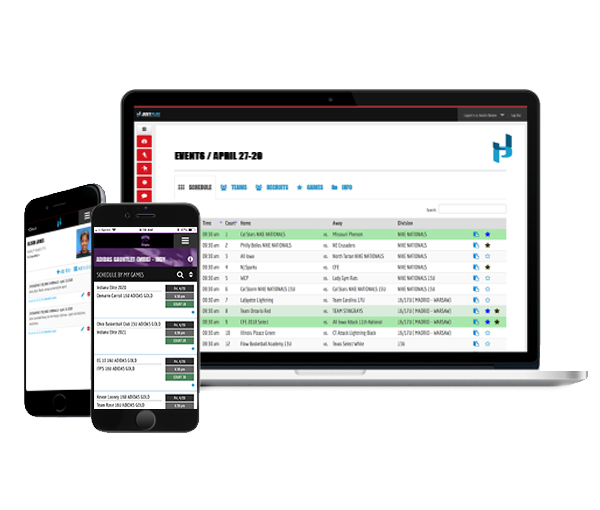 Ready to get started?
If we didn't answer all of your questions, feel free to drop us a line.

"Just Play helps us develop players faster and prepare more effectively for our opponents. It's the best teaching tool in the game."
Nate Oats
Head Coach, Buffalo Men's Basketball

"Just Play's customer service is phenomenal. I'm their biggest fan and would recommend their product to any coaches out there."
Jennifer Graf
Associate Head Coach, Troy Women's Basketball

"We have our playbook, scouts, and film for individual players all in one place. It's made our entire operation much more efficient."
Kory Alford
Video Coordinator, UCLA Men's Basketball

"It will enhance your game preparation and shorten the learning curve for your players."
Wesley Brooks
Assistant, Michigan Women's Basketball

"I know we're more prepared, I've seen the results. Just Play has been a big part of our success at WIU."
Seth Minter
Assistant, Western Illinois Women's Basketball