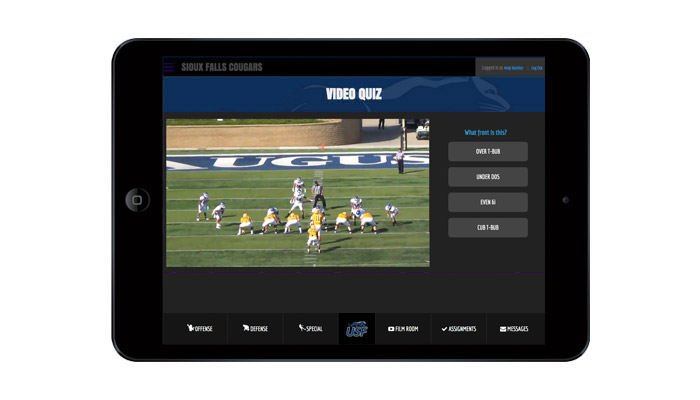 Video Quizzes
Just Play has built an extension of the film room right into our player app, allowing coaches to create video assignments for their team. Simply upload or choose clips from your system, add questions to stop-points, and send assignments to players or position groups.
Playbook Building
Its easy to build a playbook with Just Play. Our system provides flexibility in how you create and organize plays and offers a range of tools to help you easily share play sheets, diagrams, video, and assignments with your team.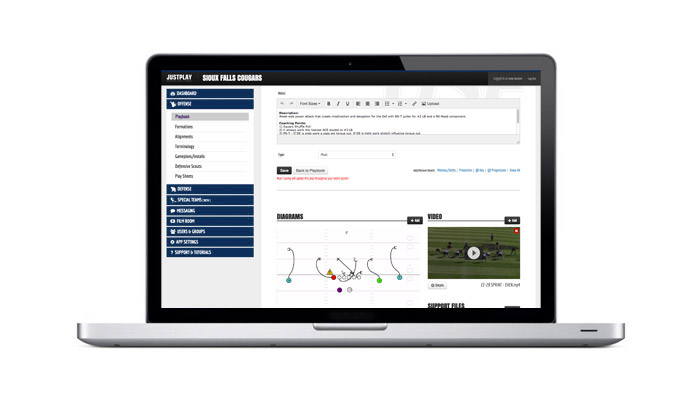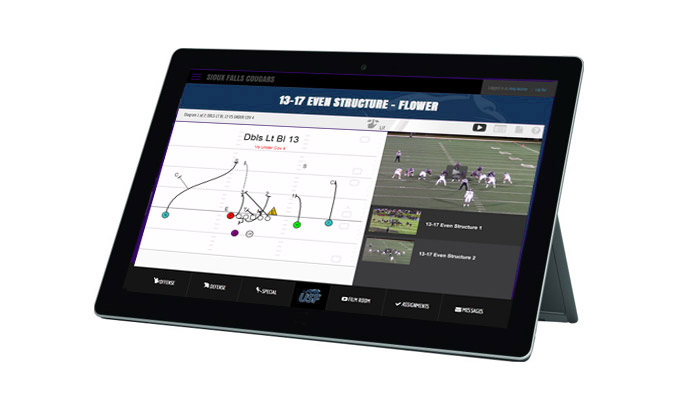 Interactive Learning
Just Play gives players a more active learning platform on the devices they use every day. You can control each player's access to your playbook, gameplans, scouting reports, video quizzes and more. Players can even ask questions as they study helping them be more prepared the next time you step onto the field.
Diagramming
We have worked with numerous coaches to help us develop the best diagramming tool on the market. Just Play will save you hours each week with its easy-to-use drawing tools and time-saving features.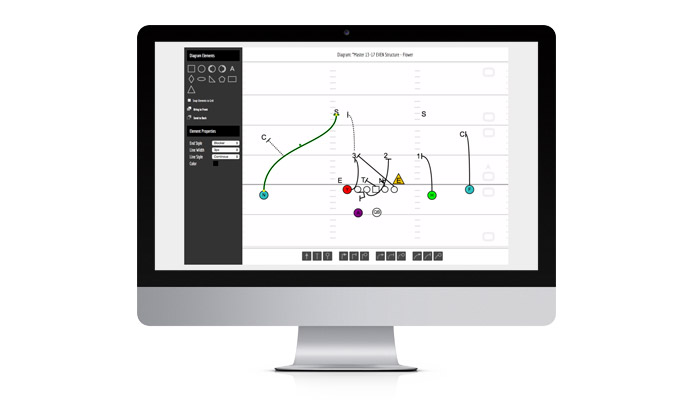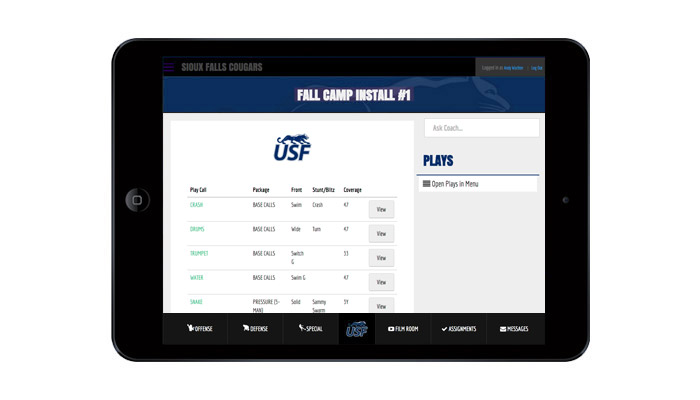 Gameplans & Installs
Just Play makes it easy to create and share gameplans and installs with your team. You can create these by simply selecting plays from your master playbook, or use existing plays as a starting point to create new versions. Our playbook settings allow coaches to control the sets of plays that players can and cannot view within the player app.
Scouting Reports
Perhaps the most important thing you do on a weekly basis is scout your opponent. Just Play puts a special emphasis on this task so you can create opponent play diagrams, practice scripts, and play cards that can be used along with notes and video in the player app.
Video Integration
We make it easy for coaches to import from their video editing system (Hudl, DVSport, XOS, etc.) and attach clips to plays, terminology, scouts, and quizzes. You can simply export the clips you wish to use and upload them into Just Play or you can use an XML import for larger video needs!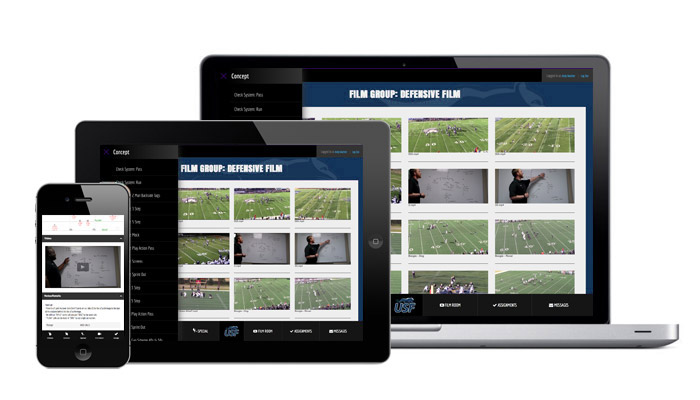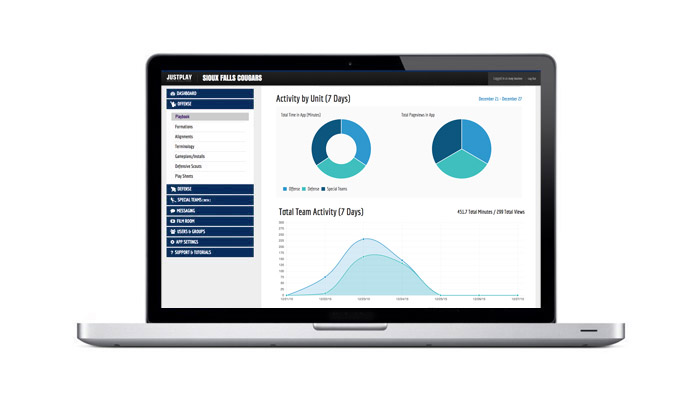 Player Analytics
Just Play believes that accountability is a big part of a team's success. Our system allows coaches to track player usage showing every page visited, the time spent on each page, and player quiz performance. Our Advanced Analytics provides customizable metrics so you can compare usage among players and position groups to help you understand exactly how your team is using your system.
Access & Security
Keeping your playbook secure is a top priority for Just Play. You control and track who can access your system and can remove access with the click of a button. This provides a more secure solution than paper playbooks that can be easily copied or discarded carelessly.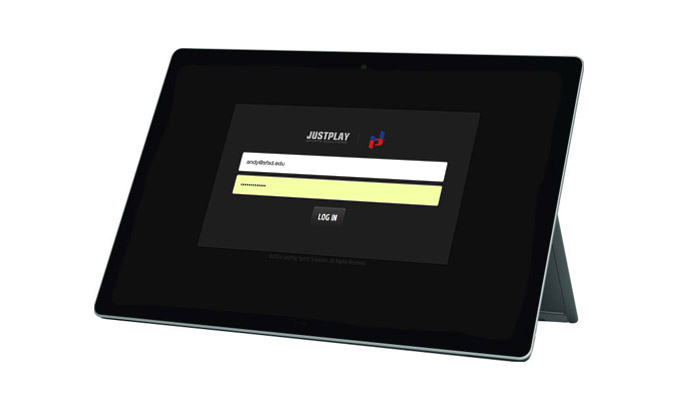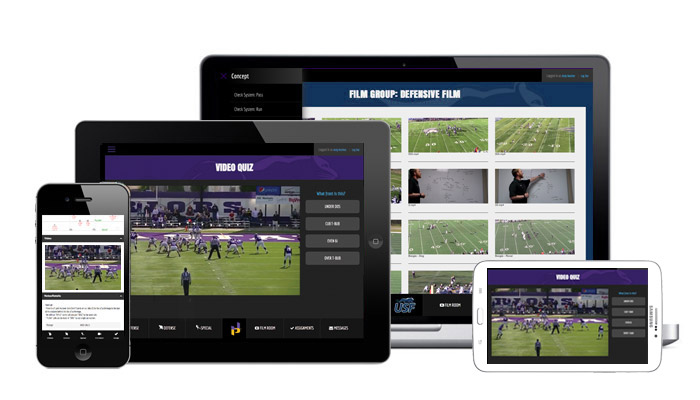 Cross-Compatibility
No software is needed for Just Play. All you need is an internet connection and your system can be accessed from any platform or device. Players can study on their personal computer or on any iOS/Android tablet or smartphone.